B.Sc. Business Economics
General Information
Degree
Bachelor of Science
Credits
180 ECTS
Standard Period of Study
6 semesters
Start of Studies
winter semester
Accredited
yes
Language of Instruction
English
Restricted Admission
yes
Form of Study
on-site, full-time, international
Tuition Fees
None
Program Characteristics and Goals
The Bachelor program in Business Economics at Martin-Luther-Universität Halle-Wittenberg is an internationally recognized 3-year degree program that provides you with the skills and the knowledge needed for a career in an international setting.
The program is designed to give students a solid understanding of business management, economics and quantitative methods that can readily be applied in an international environment. You will pursue your studies with a diverse mix of German and international students, small class sizes and lectures held by German and international professors.
Applicants to our program have a genuine interest in business management and economics and possess excellent proficiency in English. International applicants bring the desire to immerse themselves in a multilingual environment and to benefit from a strong command of the German language by the end of their studies.
Career Opportunities
Our students acquire a widerange of transferable skills, enabling them to pursue a wide range of careers in
International coorporations
Government and public agencies
Consulting firms
Entrepreneurship
Good results in your undergraduate studies further allow you to very successfully pursue graduate studies with your Bachelor's degree.
Program Structure
The first two years are taught entirely in English and will familiarize you with subjects relevant to both business studies and economics. German students take advanced English classes and other languages of their choice while international students benefit from integrated German language classes. In the final year you may then choose from a broad range of electives taught in both English and German that reflect your personal interests.
Business Studies (25 ECTS)

Economics (25 ECTS)

Quantitative Methods (30 ECTS)

Foreign Languages (40 ECTS)

General Education Courses (10 ECTS)

Electives (30 ECTS)

Seminar (5 ECTS)

Internship (5 ECTS)

Bachelor's Thesis (10 ECTS)
Detailed program goals, course content and classes of the program can be found in the study and examination regulations.

Current Study and Examination Regulations: B.Sc. Business Economics
Studien- und Prüfungsordnung - Business Economics.pdf (266.5 KB) vom 13.08.2019
Studying in Halle
Aside from academic success, your time at the Martin-Luther-University Halle-Wittenberg can and should be very enriching personally. Staff and student tutors, orientation week and events organized by our International Office will help you settle in quickly and you will make friends that just might accompany you throughout your studies and potentially for the rest of your life.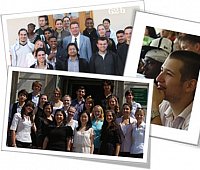 The city of Halle is the largest and most densely populated city in the state of Saxony-Anhalt. Architectural monuments, an opera house, the Händel auditorium and multiple theaters and stages, make Halle an important historic and cultural destination. The banks of the Saale river as well as numerous parks and pubs invite students to pursue recreational activities and to hang out with friends. With its university and two colleges, renowned research institutions for economics and biosciences as well as a booming logistics industry, Halle is also one of the thriving cities in the region.
MLU Halle-Wittenberg does not charge tuition fees but only a small administration fee per semester. Students should anticipate total monthly expenses of approximately 750 Euros including rent, food, transportation and health insurance. Students typically live in either dormitories, shared accommodation or single appartments that range from 150-300 Euros. There are only limited financial support schemes available for international undergraduate students but you may work a limited number of days to support your studies. Our International Office will be happy to assist you in these matters.
Admission Requirements
All applicants must be eligible to attend a higher education institution in Germany. For German applicants, eligibility is established by their Abitur. International applicants must have their eligibility determined by uni-assist e.V. Applicants who are currently ineligible to attend a university in Germany may attain eligibility by successfully passing an assessment test at the preparatory school. International applicants may apply for a foundation year at the preparatory school to obtain access to higher education in Germany.
Additionally, all applicants must provide proof of their proficiency in English by means of one of the folllowing test results:
Abitur: minimum score of 10
Cambridge: minimum FCE with grade C
IELTS: minimum total band score of 6.0
Placement test B2 at MLU
TOEFL ibT: minimum score of 72
UNIcert II
If you wish to participate in the placement test at MLU, you need to be able to travel to Halle for that purpose: we do not issue invitation letters for visas to take the test. Please also read our FAQ to learn about the advantage of submitting an internationally-recognized test score.
Application
The following application deadlines apply:
Applicants who obtained their access to higher education in Germany (Abitur) must apply via MLU's online portal until July 15.
Applicants who obtained their access to higher education abroad must apply via www.uni-assist.de until June 30.
All applicants are required to submit the following documents:
Completed and signed application form
An authenticated copies of your secondary school diploma and the official transcript. The transcript must indicate the total number of years you attended school and include a key explaining the grading system.
Authenticated copies of all previously earned academic degrees and transcripts
Proof of your proficiency in English as listed above
For detailed information about the ranking and selection process of applicants, please consult our selection regulations.
Selection Regulations: BSc Busines Economics
Selection Regulations - Business Economics.pdf (71.8 KB) vom 13.08.2019
FAQ
With questions about admission requirements, the application procedure or applicant selection, please make sure to consult our FAQ.
Contact Us
If you have any remaining questions that are not addressed in our FAQ, please do not hesitate to contact us:
Contact
Dr. Klaus Schmerler
room 225
Große Steinstrasse 73
06108 Halle
phone: +49 - (0)345 - 5523324
phone: Skype: IBSc-Team
applicants@wiwi.uni-halle.de
---
---