About the department
Kurzportrait des Bereiches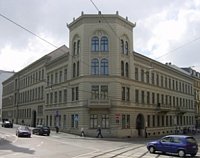 The School of Economics and Business looks back on a tradition of several hundred years. A professorship of "Cameral Science" (Polizey- und Cammersachen) was established in 1727, the first of its kind at a German university.
The focus at the time lay on research and teaching in the field
of economics in a very general sense, covering issues in economics, business and public finance.
Today there are 21 professorships covering the fields of
business studies, economics and business information systems. More than 2000 students are enrolled in various Bachelor and Master programs offered by the department.
Location and surroundings of the School of Economics and Business
School of Economics and Business
---
---