---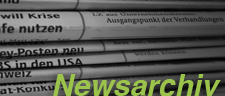 Newsarchiv: News
Jahr 2016
Rücknahme der Modulhandbücher
24.03.2016: Sehr geehrte Studierende,
aufgrund technischer Gegebenheiten, haben die Modulhandbücher- und übersichten Fehler enthalten. Wir haben diese kurzfristig von unserer Homepage entfernt und arbeiten an einer Lösung. Während dieser Zeit können Sie bezüglich der neuen Studienordnung die entsprechenden Amtsblätter konsultieren, die Sie auf unserer Homepage finden.
Modification in the study and examination regulations in summer term 2016
11.03.2016: Dear students,
as a result of the re-accreditation, new study and examination regulations will become effective as from summer semester 2016. You can find them on the website of the school of economics and business's examination office.
In their meeting on March 9, 2016, the members of the examination board decided on transitional rules which can also be found on the examination office's website. Additionally, we are going to explicate the resolutions and modifications in informative meetings on March 21, 2016 and March 22, 2016. Please choose the meeting relevant for your study program. If at these dates you are prevented for any reasons, you will find a video-record at a later date.
Students finishing their study program during the summer semester 2016 may remain in the "old" study and examination regulations.
For all other students the following applies: Study assessments you already achieved are going to be automatically transferred to your electronic assessment account affiliated with the new study and examination regulations. This transfer will take place from May 2 till May 6, 2016. During this time you will have only limited access to the Löwenportal. The buttons "Modules and Examinations", "Grades", and "Registered Modules and Examinations" will not be in operation during this period. Registration for the modules will only be available afterwards.
Registration period for modules: May 9 – May 31, 2016.
Students finishing their study program during the summer semester 2016 who are not changing into the new study and examination regulations are not affected by this alteration. For those students, the regular module registration period (March 23 – April 27, 2016) remains valid.
In case of further inquiries, the team of the examination office will be available to support you as of March 23, 2016.
Your team of the examination office
You can find all important information and documents (only in german) under "Studium und Prüfungen/Prüfungsausschuss/Beschlüsse zu den neuen Fachspezifischen Studien- und Prüfungsordnungen/..."
Zuteilungsverfahren
20.02.2016: Liebe Studierende,
wir möchten darüber informieren, dass am 15.02.2016 im Löwenportal das neue Zuteilungsverfahren zum Bachelorseminar und/oder Bachelorarbeit gestartet ist.
Auch in diesem Semester haben wir alle wesentlichen und wichtigen Informationen in einer Videoaufzeichnung für Sie festgehalten, so dass Sie diese bequem von zu Hause aus abrufen können. Das Video steht Ihnen online unter folgendem Link http://openlecture.uni-halle.de/episode/45bd1285-2b6e-4028-879a-3803e6d5d7e5 zur Verfügung.
Für Rückfragen stehen wir Ihnen unter folgender Mailadresse info.pamt@wiwi.uni-halle.de sowie pruefungsamt@wiwi.uni-halle.de zur Verfügung.
Exchange program with the Southwest University of Political Science and Law
05.02.2016: The institute of Business Law offers an exchange program with the chinese Southwest University of Political Science and Law (Chongqing) in wintersemester 2016/2017.
15 of the best applicants will receive a DAAD scholarship.
The application period will take place up to (including) March 1, 2016 and must be sent directly to the institute of Business Law . Further information can be found in the attachment.
Adress of institute of Business Law:
Universitätsplatz 5 (Juridicum)
06108 Halle (Saale)
Prüfungsamt krankheitsbedingt geschlossen
01.02.2016: Das prüfungsamt bleibt krankheitsbedingt vom 1.2.2016 bis einschließlich 5.2.2016 geschlossen.
In dringenden Fällen steht Ihnen Frau Rudolph (Zimmer 111) oder das Dekanat (Zimmer 104) zur Verfügung. Die Abgabe von Abschlussarbeiten und die Ausgabe von Themen erfolgt ebenfalls durch Frau Rudolph.
Alle anderen Anliegen können wir derzeit nicht bearbeiten.
Wir bitten um Ihr Verständnis.
Angebot Blockseminar in Chinesischer Philosophie
04.01.2016: Der Lehrstuhl für Wirtschaftspolitik und Wirtschaftsforschung bietet kurzfristig eine Seminar zum Thema "Chinesische Philosophie (Einführung)" an.
Das Seminar findet vollständig in der Woche vom 18.01 bis 22.01 statt. Weitere Informationen erhalten Sie im nachfolgenden Dokument.
Jahr 2015
No opening hours while winter break
01.12.2015: The examination office is closed from 18.12.2015 11:00 until 6.1.2016.
Tendering for Scholarship of the investmentbank of Saxony Anhalt
01.11.2015: Investmentbank of Saxony Anhalt advertises a scholarship for the upcoming summer semester 2016.
Focus of the scholarship
Talented students, who reached outstanding achievements in their Studies or Work.
Application period
From 01. November up to 30. November 2015
For Further information see attachements:
(unfortunately only in german)
Examination dates for winter term 2015/16
16.10.2015: We just published the examination dates for the current semester on our corresponding site "Examination dates".
By clicking an examination you can see extra scheduled periods like end of withdrawal period.
further contact for freshmen
07.10.2015: For freshmen , it is possible to contact in case of (urgent) questions the Economic Students Counsil or the Studyphone of the university ambassadors.
Start: http://fachschaft.wiwi.uni-halle.de/ (informations only in german)

Contact Facebook: Fachschaftsrat Wiwi Halle
Contact StudIP : Econ Students Council
Studyphone:
up to 15. October
Monday - Friday (except holidays)
from 13–20 clock
phone: 0345 55-21550 or 0345 55-21551
mail: studyphone@uni-halle.de
Schedule example for freshmen
25.09.2015: The new semester is starting and we welcome all first semester at faculty of economics.
You can find some useful information about the begin of your study in our category "Information for studies" like a schedule example or guides how to use the study portals of the university.
We wish you good luck and a great start in your studies.
Changed opening hours
30.07.2015: During the week of 17th Aug. 2015 to 28st Aug. 2015 apply different opening hours.
Opening hours: Tuesday & Thursday - 08:30 - 11:30
---
---